The prestigious Children's festival, Balotsav, an annual International Telugu Children's festival which has been conducted since 1991, at Kontha Gudem, Khammam District,Telangana, will be conducted in Vasireddy Venkatadri Institute of Technology, Nambur, Andhra Pradesh, this year during 12-14 November, as informed by Hon.ble Vice Chancellor, Prof. A.Rajendra Prasad of Acharya Nagarjuna University.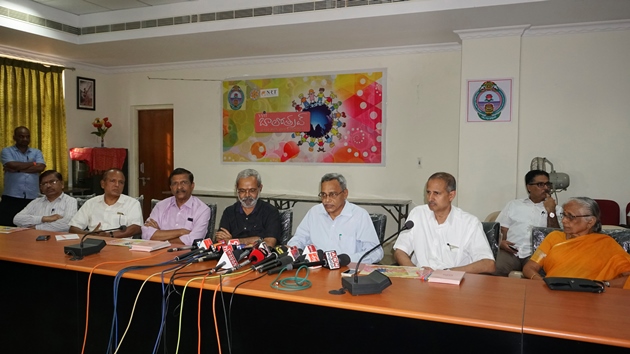 During the brochure unveiling event at Acharya Nagarjuna University, Prof. A.Rajendra Prasad, informed the details after releasing the brochure of VVIT-Balotsav, along with APNRT CEO Sri Ravi Vemuri and VVIT Chairman Sri Vasireddy Vidya Sagar, ANU Registrar Prof.John Babu, ANU Rector Dr.KRS Sambasiva Rao, Smt.Nannapaneni Manga Devi, Founder Chairman, SriVenkateswara BalaKuteer,Guntur.
The organizers informed that the applications for the participation in this VVIT Balotsav, will be accepted till 31st October and emphasized that there is NO entry fees and free food & accommodation also will be provided for the registered students as well as their in-charges from the schools.
Prof. A.Rajendra Prasad stated that the all round performance development of kids depends on three important factors, the memory power, creativity and environment, which are not available to them in a balanced manner. He opined that this kind of Children's fests will provide most suitable platforms to showcase their talents.
Sri Ravi Vemuri, on this occasion said that sharing of experiences and feelings is the Utsav and this Balotsav will definitely explore a beautiful social perspective in every child in their beautiful untainted hearts. He emphasized that students hailed from different regions, cultures & dictions when meet at this kind of Balotsav will enrich their creativity, sharpness and competitive spirit.
Dr.Vasireddy Ramesh Babu, Convenor of Kothagudem Balotsav, said that they have given a break this year for the Kothagudem Balotsav which they have been conducting for the past 25 years due to some intrinsic reasons. He added, following the trend and sentiment of that Balotsav and inorder not to stop that, VVIT has taken up this major project as a responsibility to provide the platform for the students to explore their talents and cherish.
Dr.Ramesh, informed that this VVIT Balotsav is meticulously structured to conduct 42 competitions in 20 events for the children from Nursery to 10th Class and said that they will provide their complete cooperation.
Smt.Nannapaneni MangaDevi, Founder Chairman of SriVenkateswara BalaKuteer, Guntur, in this occasion stated that, this VVIT Balotsav 2017 is a Mega Event, and expected all the parents to encourage their children to participate in this with fervour.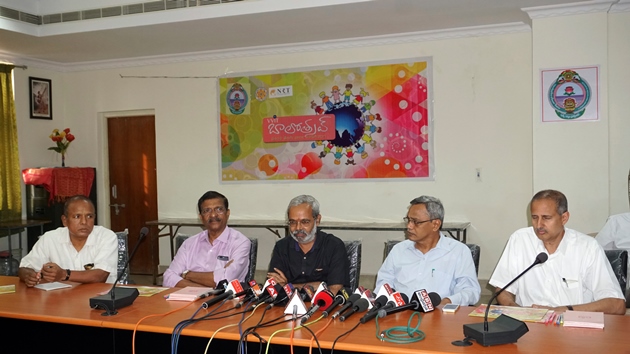 Sri Vasireddy Vidya Sagar, Chairman of VVIT, on this occasion, said that they are very much determined to conduct this Balotsav as an International Telugu Children's fest. He said it's going to be the first annual event and first international event for the Telugu speaking children across the nations. He said the fest invites all the Children of Telugu speaking people across the globe to participate in this Balotsav and emphasized that APNRT is making all the necessary support. Sri Sagar firmly believed that this VVIT Balotsav 2017 will be marked as a successful beginning for the providing a platform to bring out the innate talents of students and expected a positive cooperation from all public and private schools across the Telugu states.
For this VVIT Balotsav-2017 poster release event, Vice Chancellor, Prof. A.Rajendra Prasad of Acharya Nagarjuna University, Registrar Prof.John Babu, Rector Dr.KRS Sambasiva Rao, Smt.Nannapaneni Manga Devi, Founder Chairman, SriVenkateswara BalaKuteer, Guntur were present.