An inspiring guest lecture on the key-technical aspects of "Thermal Power Plant Operation: some Case Studies" was held for the budding Electrical & Electronics Engineering students, today 23 July, 2018 under the aegis of Department of EEE.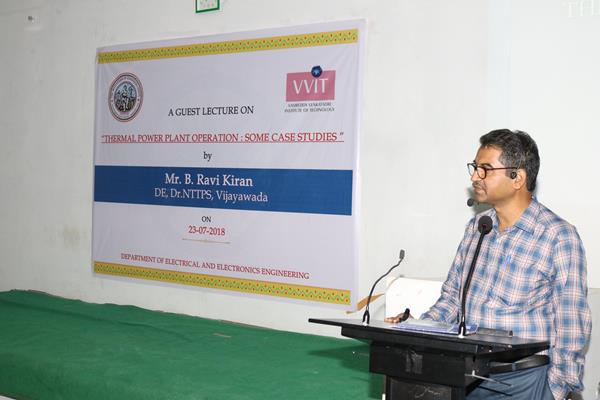 VVIT always motivates its students to undergo many advanced workshops and imbibe the knowledge. Mr. B. Ravi Kiran, Divisional Engineer, Dr. Narla Tatarao Thermal Power Station (NTTPS), Vijayawada, acted as Chief Guest & Resource person for this Guest Lecture organized by EEE department.
During the Guest Lecture Mr. Ravi Kiran discussed at length the astounding concepts in Thermal Power Plant operation and illustrated various case studies that revealed the theoretical and practical niceties for the students. Mr.Ravi Kiran emphasized the importance of thermal power plants despite the growing support for alternative energy sources in India.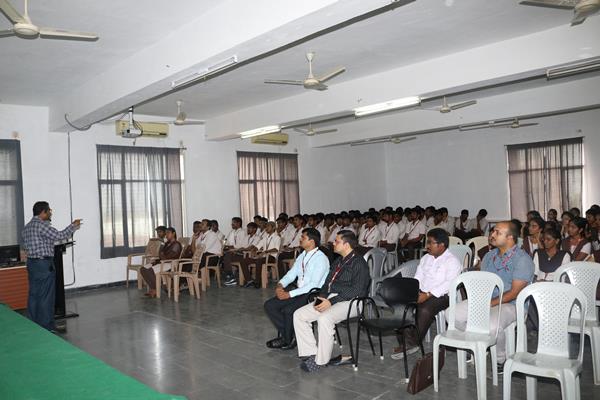 Mr. Ravi Kiran comprehensively answered various questions related to the Thermal Power Plant operations in real time scenario. He also suggested the students to do deep ground work in the field of their interest to excel. Sri Ravi Kiran commended the efforts of VVIT for conducting this kind of guest lectures by the industry experts to make the students improve their awareness on real time scenario of Electrical & Electronics Engineering Industry.
Principal Dr.Y.Mallikarjuna Reddy, of VVIT, emphasized that their institute always conducts several advanced workshops, guest lectures and seminars on challenging technologies to spur the research & development attitude in the students. Dr.Reddy said that this seminar is a boon for the students to orient themselves towards the Power Plant Maintenance and related engineering issues.
Prof. A.Naresh Babu, HoD-EEE, stated that VVIT is always a step ahead in conducting this kind of seminars for the benefit of their students. He loyally mentioned that the Department of EEE is fully equipped with necessary infrastructure, faculties and got accredited by NBA. Dr. Naresh also mentioned that the objectives of this seminar were successfully achieved.
VVIT Principal Dr.Y.Mallikarjuna Reddy, HOD-EEE Dr. A.Naresh Babu along with management members felicitated the Resource person Mr.B.Ravi Kiran. Principal Dr.Y.Mallikarjuna Reddy, Prof. A.Naresh Babu, HOD EEE, all EEE students along with faculty were present in this knowledge full seminar.