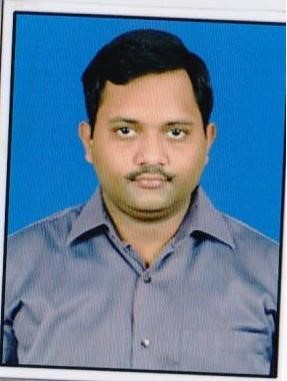 1. Personal Information
2. Academic Information
Name of the Degree

Name of the College

Name of the University

Year of Passing

Specialization

 B.E.

VASAVI COLLEGE OF ENGINEERING

 O.U
2001
CSE
M.Tech. 
 

DVR & Dr HS MIC  COLLEGE OF TECHNOLOGY

 JNTUK, KAKINADA
2014
CSE
Ph. D.
Andhra University, College of Engineering (A)
Andhra University
Registered in 2020
 
2a. Examinations Qualified
​
| | | |
| --- | --- | --- |
| Name of the Test | Year of Qualification | Specialization |
|  GATE | 2018 | COMPUTER SCIENCE AND ENGINEERING |
|  NTA-NET | DEC 2019 | COMPUTER SCIENCE AND APPLICATIONS |
| APSET | 2019 | COMPUTER SCIENCE AND APPLICATION |
3. Experience (Teaching/Industry/R&D)
SNO

Period

Designation

Name of Organization

Experience

From

To

1
01/04/2017
Till date
Assistant Professor

VVIT, NAMBUR, GUNTUR DIST, AP-522508

 
 2
 

31/08/ 2009

 

31/3/2017

 Assistant Professor
 DVR & Dr. HS MIC College of Technology, KANCHIKACHERLA, KRISHNA DIST, AP-521180
 5.7  (Ratified)
3

June 2004

Nov 2008

HR ASSISTANT, PERSONNEL AND ADMINISTRATION DEPARTMENT 

WILLIAM HILL, Milton House, Charter Row, Sheffield S13FZ. U.K
 4.5
4

March 2002

May  2004

TELEPHONIST

WILLIAM HILL, Milton House, Charter Row,   Sheffield S13FZ. U.K

2.2
4. Publications
International Journals
SNO

Title

Year

Name of Journal

Issue No

Vol No

Page No

ISSN NO

1
 

Feature Extraction and Performance Assessment of Post Processing Techniques in Fingerprint images

December 2014

International Journal of Applied Engineering Research, SCOPUS INDEXED

 24
9
30621-30635
0973-4562
2
 

Employing Stealthy Visual for Image Secrecy

November 2016
 

International Journal of Advanced Research in Science, Engineering, and Technology

 11
3
2962-2965
2350-0328
3
 Multiple Images Defending Process by Leaning Techniques
March 2017
Smart Innovation, Systems and Technologies, Springer. https://doi.org/10.1007/978-981-10-5544-7_10
 
77
95-103
2190-3018
4

Facial Emotion Recognition Using Deep Learning

March 2018

International Journal Of Creative Research Thoughts 

1
6
646-648
2320-2882
5
SMS Encryption on Android Application
March 2019
 International Journal of Computer Sciences and Engineering
DOI: https://doi.org/10.26438/ijcse/v7i3.528533
3
7
528-533
2347-2693
6
Criminal Identification through Face Recognition
March 2019
 International Journal of Computer Sciences and Engineering
DOI: https://doi.org/10.26438/ijcse/v7i3.4649
3
7
46-49
2347-2693
7
An Efficient Proof-of-Work Mechanism for Computational Feasibility in Blockchain
September 2019
International Journal of Innovative Technology and Exploring Engineering (IJITEE), SCOPUS INDEXED
11S
8
820-821
2278-3075
8
Trigger Word Detection Using Sequence Model
August 2020
International Journal of Grid and Distributed Computing, Web of Science - Emerging Sources Citation Index.
1
13
2694– 2702
2005-4262
9
Air writing using Deep Learning
July 2021
BULLETIN MONUMENTAL -https://doi.org/10.37896/BMJ22.7/4006
7
22
53-58
0007-473X
International Conferences
SNO

Title

Year

Name of Proceedings

Name of Institution Organized

Page No

ISSN NO

 1
 

Multiple Images Defending Process by Leaning Techniques

 2017
 

First International Conference on Smart Computing and Informatics, Smart Innovation Systems and Technologies, Springer

Anil Neerukonda Institute of Technology and Sciences, Visakhapatnam, Andhra Pradesh
 
 
2
WATER QUALITY ASSESSMENT USING SMART TECHNOLOGY
2018
INTERNATIONAL CONFERENCE ON TRANSFORMATION IN ENGINEERING EDUCATION– IMPARTING FUTURISTIC SKILLS.
SRM UNIVERSITY, AMARAVATHI
IUCEE
 
 
3
An Efficient Proof-of-Work Mechanism for Computational Feasibility in Blockchain
2018
International Conference on Recent Trends in Automation–2018 (ICRTA-18)
Vasireddy Venkatadri Institute of Technology
 
 
4
Trigger Word Detection Using Sequence Model
2020

Two Day National E-Conference EECSE ( Electrical, Electronics and Computing Systems in Engineering ) – 2020

Vasireddy Venkatadri Institute of Technology
 
 
5. Membership in Professional Bodies
| | | | | |
| --- | --- | --- | --- | --- |
| SNO | Name of Professional Society | Membership No | Membership Info (Life/Fellow/Ordinary) | Member Since |
| 1 | ACM (Association for Computing Machinery) | 22xxx97 | Annual / Ordinary | AUG 2014 |
| 2 | IEEE( Institute of Electrical and Electronics Engineers ) | 931xxx13 | Annual / Ordinary  | DEC 2014 |
| 3 | ISTE ( Indian Society for Technical Education ) | LM 10xxx3 | Life member | NOV 2014 |
| 4 | IEI (Institution of Engineers of India) | AM155xxx1 | Life member | NOV 2014 |
| 5 | ISSE-ISRO (Indian Society of Systems For Science and Engineering) | LM 03xx6 | Life member | NOV 2014 |
| 6 | IAENG (International Association of Engineers) | 15xxx5 | Life member | MAY 2015 |
| 7 | EWB ( Engineers Without Borders) | PFA xx7 | Annual / Ordinary  | NOV 2020 |
6. Training/Conferences/Seminars/Summer School/Winter School attended
SNO

Year

Title

Conducted At

Other Information

 1
 

08-01-2011

 

Seminar on "Cloud Computing"

 

DVR & Dr. HS MIC College of Technology

 Participated
2

21-11-2011 to 
25-11-2011.

Mission 10X - Faculty Development Program on Teaching Methodologies

DVR & Dr. HS MIC College of Technology

 Participated
3

29-08-2012

Paper presented on "Morphological Image Processing using different operators"

GEC, Gudlavalleru

Participated
4

08-07-2013 to 
09-07-2013

"Android Application Development"

DVR & Dr. HS MIC College of Technology.

 Participated
5

21-4-2014 to   
23-04-2014

"Digital Image Processing & Machine Vision using Matlab"

RVR & JC College of Engineering, Guntur

 Participated
6

Nov and Dec 2012

Workshop conducted by EnhanceEdu, IIIT-Hyderabad: Teacher Training Program on CIT, Java

Online

Certified

7

23-06-2015 to 
24-06-2015

Research Challenges & Issues in Big Data Analytics

Sree Vidyanikethan Engineering College, Tirupati

 Participated
8

21-8-2015 to   
22-8-2015

Internet of Things

Vasavi College of Engineering, Hyderabad

 Participated
9

27-11-2015 to 
28-11-2015

Network Analysis using NS3 Tool for design, testing and implementation

DVR & Dr. HS MIC College of Technology

 Participated
10

7-12-2015 to   
11-12-2015

Training program on cybersecurity phase-I

C.R.Rao Institute, Hyderabad

APSSDC-NASSCOM

Participated

11

26-02-2016 to  
27-02-2016

DST Sponsored Two Day workshop on  SOFT COMPUTING Techniques for Engineering Applications

DVR & Dr. HS MIC College of Technology

 Participated
12

24-05-2016 to 
28-05-2016

One Week FDP on "Essentials of Visual Modeling And Rational Software Architect (RSA)"

DVR & Dr. HS MIC College of Technology

 Participated
13

6-07-2016 to   
10-07-2016

Training program on cybersecurity Phase-II

ANU, Guntur, APSSDC-NASSCOM

Participated

14

31-10-2016

Research guidelines and methodologies

DVR & Dr. HS MIC College of Technology

 Participated
15

5-11-2016 to     
6-11-2016

Multi-Disciplinary Research Challenges and Trends in Computer Science

DVR & Dr. HS MIC College of Technology

 Participated
16

8-11-2016 to     
9-11-2016

Computational Techniques using Matlab (R2016a)

DVR & Dr. HS MIC College of Technology

 Participated
17

14-12-2016 to 
18-12-2016

Training program on cybersecurity Phase-III

JNTUK, Kakinada, APSSDC-NASSCOM

 Participated

18

20-3-2017 to
22-03-2017

Recent Trends in Image & Video Processing

VNRVJIT, Hyderabad

  Participated
19

24-4-2017 to   
28-4-2017

Computational intelligence and its applications in science and engineering (CiASE-17)

PVPSIT, Vijayawada

  Participated
20
24-06-2017
Faculty Enablement Program on "Data Analytics"
VVIT, Guntur,Sphere Management Incorporated
Participated
21
29-07-2017
APSSDC - IUCEE- EPICS DESIGN THINKING
SVCE, TIRUPATI, IUCEE AP CHAPTER- EPICS
Participated
22

12-10-2017 to 
13-10-2017

Faculty Improvement Program on AMAZON WEB SERVICES (AWS) Technical Essentials

Dhanekula Institute of Engineering & Technology, Vijayawada,APSSDC

Participated
23

22-01-2018 to
28-01-2018


FDP on Machine Learning and Soft Computing
LBRCE, Mylavaram, Electronics & ICT Academy, NIT Warangal
Participated
24

24-04-2018 to   
25-04-2018

DESIGN THINKING

SVCE, TIRUPATHI

APSSDC- IUCEE- EPICS

 

Participated
25


27-04-2018 to     

10-05-2018



Two weeks of Faculty Improvement Programme on E-box training.
VVIT, Amphisoft Technologies Private Ltd.
Participated
26

12-07-2018 to 
14-07-2018


EPICS IN INDIA ANNUAL SYMPOSIUM – 2018

RADISSON HOTEL, HYDERABAD

EPICS IN IEEE

 

Participated
27

15-07-2018 to
17-07-2018


PRESENTED A POSTER ON "WATER QUALITY ASSESSMENT USING SMART TECHNOLOGY" IN INTERNATIONAL CONFERENCE ON TRANSFORMATION IN ENGINEERING EDUCATION– IMPARTING FUTURISTIC SKILLS. Got 3rd Prize.
SRM, AMARAVATHI - IUCEE
THIRD BEST POSTER AWARD
28


JANUARY 2018 -

JULY 2018



IUCEE-EPICS DESIGN THINKING COURSE AND PROJECT 2018
PURDUE UNIVERSITY-IUCEE-APSSDC
CERTIFICATE OF COMPLETION
29

JANUARY 2019 -

APRIL 2019

NPTEL - AICTE, PROGRAMMING IN JAVA
 
CERTIFIED - ELITE
TOP PERFORMING MENTOR
30

21-10-2019 to

26-10-2019

APSSDC- FIP-ADVANCED PYTHON PROGRAMMING
VVIT, Guntur
PARTICIPATED
31

29-10-2019 to     

2-11-2019

APSSDC –FIP- MACHINE LEARNING
VVIT, Guntur
PARTICIPATED
32

18-11-2019 to     

22-11-2019 

ATAL-ACADEMY-FDP-BLOCKCHAIN

No:ATAL/2019/224782
NIT, AP
PARTICIPATED
33
04-05-2020 to    08-05-2020
5 day FDP on Robotic Process Automation
Bennett University
PARTICIPATED
34
18-05-2020 to  30-05-2020
12 days FDP on Web Designing using React.JS
APSSDC
PARTICIPATED
35
25-05-2020 to 29-05-2020
Python Programming through INFYTQ Platform
INFOSYS 
Certified With A+ Grade
36
01-06-2020 to 13-06-2020
12 days FDP on Web development using Django
APSSDC
PARTICIPATED
37
15-06-2020 to 20-06-2020
1 week FDP on Blockchain Security & Smart Contracts
V R Siddhartha Engineering College, AICTE Margadharshan
PARTICIPATED
38
16-06-2020 to 29-06-2020
10 Days FDP on Learning Experience
INFOSYS
PARTICIPATED
39
29-06-2020
Deep Learning Specialization – NN&DP, Improving Deep NN, Structuring ML Projects, CNN, Sequence Models
COURSERA
Certified
40
01-07-2020 to 30-07-2020
60 Hrs FDP on AI&DL
APSSDC, 3600digitmg
PARTICIPATED
41
03-08-2020 to     07-08-2020
1 week FDP on An Academic Perspective on Research
SRKR Engineering College
PARTICIPATED
42
10-08-2020 to 14-08-2020
1 week STTP on Cloud of Things: Theoretical & Practical Implementation
NIT Jalandhar, TEQIP-III
PARTICIPATED
43
21-08-2020 to 25-08-2020
1 week FDP on High Quality Medical Diagnosis using Data Science for Societal Benefits
V R Siddhartha Engineering College
PARTICIPATED
44
19-10-2020 to 23-10-2020

1 week FDP on Quantum Computing

No:ATAL/2020/1597681768
Sri Ramakrishna Engineering College.
PARTICIPATED
45
7-12-2020 to   11-12-2020

1 week FDP on Artificial Intelligence

No:ATAL/2020/1607156342
Manipal Institute of Technology,Manipal Academy of Higher Education,Manipal.
PARTICIPATED
46
11-01-2021 to 15-01-2021
One week FDP on Internet of Things (IoT)
No: ATAL/2020/1607922187
Central University of Kerala
PARTICIPATED
47
16-03-2021 to 01-04-2021
2 week "Wipro Certified Training Program"
TalentNext
WIPRO Certified Faculty in JAVA platform
48

28-6-2021 to 02-07-2021

1 week FDP on Cyber Security
VVIT in association with Supraja Technologies
PARTICIPATED
49
19-07-2021 to 23-07-2021
5 day FDP on "Cyber Security and Incident Analysis: A Practical and Investigative approach"
No: ATAL/2021/1625034958.
Andhra University College of Engineering (A)
PARTICIPATED
50
16-08-2021 to 20-08-2021
5 day FDP on "Real time cyber security using virtual machine and public cloud based Testbeds"
ASC VIT Chennai
PARTICIPATED
51
23-08-2021 to 27-08-2021
5 day advanced FDP on "Cyber Security and Incident Analysis: A Practical and Investigative approach"
No: ATAL/2021/1625035021
Andhra University College of Engineering (A)
PARTICIPATED
52
06-09-2021 to 17-09-2021
2 week FDP on "Advanced Optimization Techniques and hands-on with MATLAB/SCILAB"

 Electronics & ICT Academies MNIT Jaipur, NIT Patna, IIITDM Jabalpur & IIT Guwahati.

PARTICIPATED
7. Other Activities
Received certificate for exceptional contribution as a primary evaluator in Toycathon 2021 by AICTE.
Mentored student team for IUCEE POBLP from August 2021 to December 2021 who got A Grade and published paper for the project "Blockchain mapping of Dairymilk".
Mentored student team on the project "Online Crop Market using Blockchain" which got selected in the TOP 20 student chapter projects by IUCEE in 2022.
8. Training/Conferences/Seminar/Summer School/Winter School Conducted
SNO

Year

Title

Duration

Sponsoring Agencies

 1
2010
 

Acted as Mentor for VFIT Team which got selected to finals for IBM TGMC Contest

 1 year
 IBM and DVR & Dr. HS MIC College of Technology
2
2013

Acted as Mentor for IIIT-Hyderabad, STEP program

3 years
IIIT-Hyderabad and DVR & Dr. HS MIC College of Technology
3
2014

Acted as a member in FSP (Finishing School Program) for soft skills

3 years
DVR & Dr. HS MIC College of Technology
4
2015

Acted as CSI Student chapter program coordinator

2 years
DVR & Dr. HS MIC College of Technology
5
2016

Acted as program coordinator for a two-day workshop on "Latest Networking Technologies and Services" for III B.Tech CSE students from 28 to 29 Sep 2016

 2 days
BSNL and DVR & Dr. HS MIC College of Technology
6
2016

Acted as a committee member for Third International Conference on "Computer & Communication Technologies"

2 days
Springer and DVR & Dr. HS MIC College of Technology
7
2017

Acted as program coordinator and resource person for the "User Interface Design" training program for II-B.Tech CSE students from 22 to 27 May.

1 week
VVIT and APSSDC
8
2018
Acted as ACM student chapter department coordinator from Nov 2017 to Nov 2019
 2 years
VVIT-ACM


9
2018
Acting as a resource person for registered students from II, III B.Tech. CSE/IT students in Design Thinking
 
IUCEE- APSSDC-EPICS, VVIT


10
2018
Acting as a mentor and trainer for T&P registered students through E-Box 
 
VVIT


11
2019
Acting as Engineers Without Borders(EWB) Student Chapter Faculty Advisor for VVIT College.
 

 

VVIT-EWB