Professor Bill Oakes, Director, Engineering Projects in Community Service (EPICS), Purdue University, Indianapolis, USA, visited Vasireddy Venkatadri Institute of Technology, Nambur, for mentoring the faculty and students working on EPICS projects.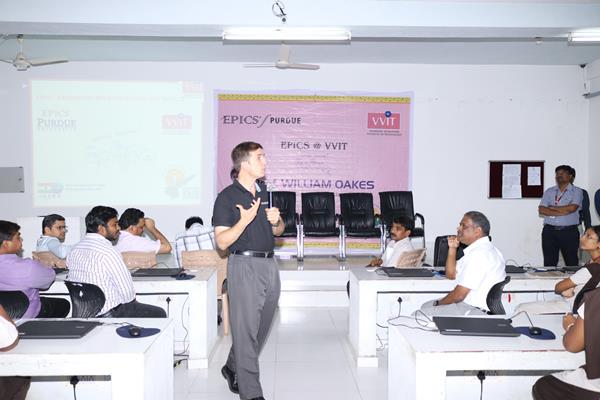 EPICS Program is a joint-venture of Andhra Pradesh State Skill Development Center (APSSDC) and Indo Universal Collaboration for Engineering Education (IUCEE) for developing important skills in doing engineering projects, which are transferable to any other real world problems, making the engineering graduates much more "employable".


The VVIT faculty and students working on the EPICS, after welcoming Prof Bill Oakes, showcased their projects and got valuable suggestions in incorporating Innovative and design thinking. The projects demonstrated by VVIT-EPICS teams were admired by Professor Bill Oakes. Being a legendary Engineering Educator, Prof. Bill Oakes, strongly felt that need for incorporation of this program in engineering curriculum as a main stream course in autonomous institutions to yield laudable results.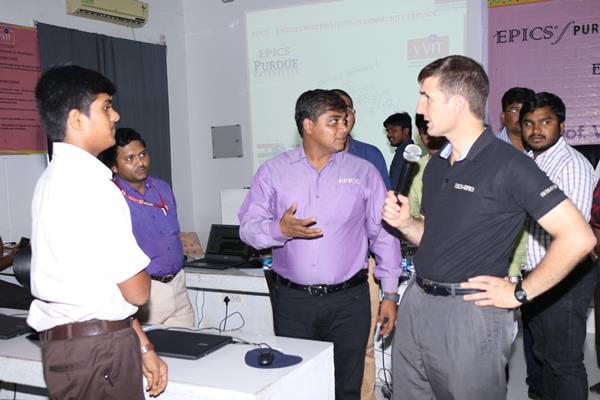 Prof. Bill Oakes of Purdue University, along with the IUCEE team, personally visits the IUCEE‐EPICS institutions several times a year. IUCEE also conducts weekly webinars for the college faculty and students. Participating faculty and students receive formal certificates from EPICS program at Purdue University upon satisfactory completion of projects. Prof. Oakes appreciated the VVIT-EPICS faculty team for their efforts in materializing their ideation to implementation.


Principal Dr. Y.Mallikarjuna Reddy also examined the participants' projects progress and suggested them to further work on their ideas to convert them into reality and fulfilling the objectives of this APSSDC-IUCEE joint initiative program, EPICS. Dr.Reddy also commended the efforts of APSSDC and IUCEE for organizing this EPICS program which is the rationale for any engineering education.


In this program students and faculty members have showcased their ongoing projects and imbibed knowledge from the internationally renowned Professor in engineering education, Prof. William (Bill) Oakes, of Purdue University.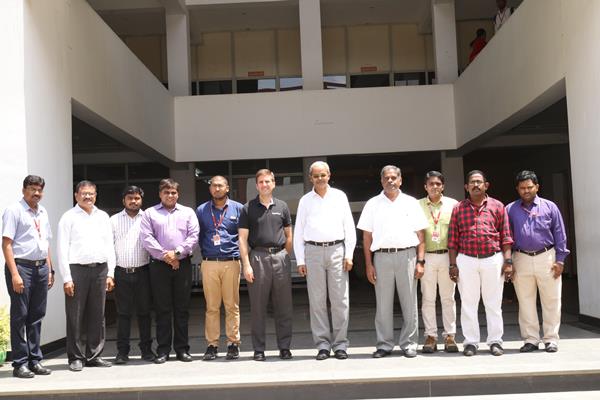 In this event, Prof. Bill Oakes, IUCEE & APSSDC Officials Sri Kantha Reddy & Sri Nagababu, Sri Vasireddy Vidya Sagar, Chairman of VVIT, Secretary Sri S.Badari Prasad, Jt.Secretary Sri M.Sree Krishna, Principal Dr.Y.Mallikarjuna Reddy, Dean Prof. N.Kumara Swamy, VVIT-IUCEE & VVIT-UIF Coordinators, other Management members, HODs, concerned EPICS faculty members along with their students were present.