Sri Dittakavi Chakrapani, IAS Retired and the present Director General , AP HRDI and Ex-Officio Secretary to Government of Andhra Pradesh has visited VVIT today, 05 July 2018 and inspired the IV year students of VVIT with his justifiable speech, as informed by Sri Vasireddy Vidya Sagar, Chairman of VVIT. He was splendidly welcomed by the Career Guidance Cell and NCC wing with a guard of honour.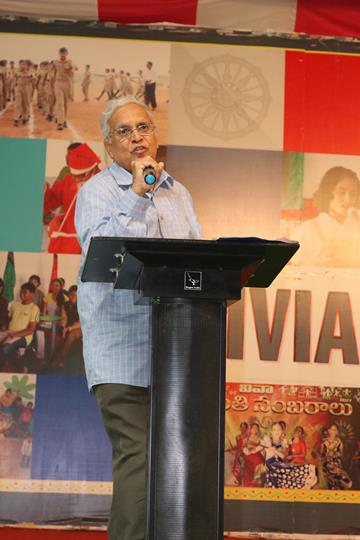 Sri Dittakavi Chakrapani, during his speech, elated the spirits of student community by highlighting the administrative skills that rendered by the freedom fighters Sardar Vallabhai Patel and Jawaharlal Nehru.
Later, he concentrated on formation of AP, people who worked hardly for its development and qualities of an IAS Officers. Sri Chakrapani inspired the students by quoting the successful efforts and the plight of sincere IAS officers Durgashakthi, Raju Narayana Swami, S.R.Sankaran and Mahalakshmi. Throughout his pompous speech he highlighted the workmanship of Indian Administrative Service. He appreciated the RTGS system comprising powerful IAS, IRS and IPS officers which is lead by Hon'ble Sri Nara Chandrababu Naidu, Chief Minister of AP. During his interaction he cleared several doubts regarding engineering students opting public service examinations. He underlined the importance TED talks for students to enrich their knowledge in the web by inviting them to enter into administration sectors like- education, irrigation, health, transport, finance, IT , Animal advisory and Land revenue system to serve the society in a better way.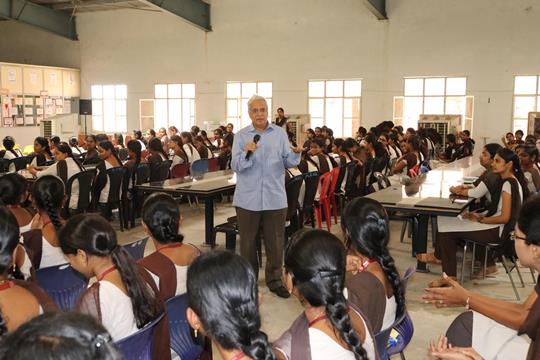 Sri Dittakavi Chakrapani particularly replied to the question asked by the student that what best he has achieved in his entire service. He emphasized that he has witnessed many odd incidents during his tenure and proved my honesty in all my deeds, he added while citing certain questions. He also analyzed the drastic changes that he got during his service pertaining to education while working at Nizamabad. He enunciated that many hest IAS officers have lost their personal life because of their commitment to the professional life. The entire programme ran in an interactive manner.


Sri Sagar, Chairman of VVIT, Dr. Y. Mallikarjuna Reddy, Principal & other management members, faculty felicitated the Sri Dittakavi Chakrapani as a token of respect for his scholarly oration.